Product Description
Details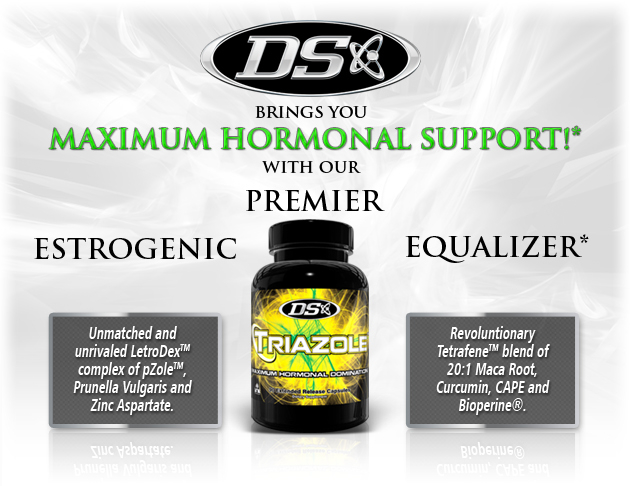 Sound familiar?
Thought so. Your body has several hormones it releases that govern muscle mass, with the king being the hormone that makes a man a man: Testosterone. On a daily basis the body releases only a certain amount of testosterone, which creates a problem for those wanting to get as big and strong as possible in the shortest amount of time. Controlling this is something known as the Hypothalamic-Pituitary-Testicular Axis (HPTA). This is where Triazole® comes into play.
Triazole® represents a REVOLUTION for the sports nutrition industry. This formula may help support a more favorable testosterone:estrogen ratio, which promotes gains in lean mass.*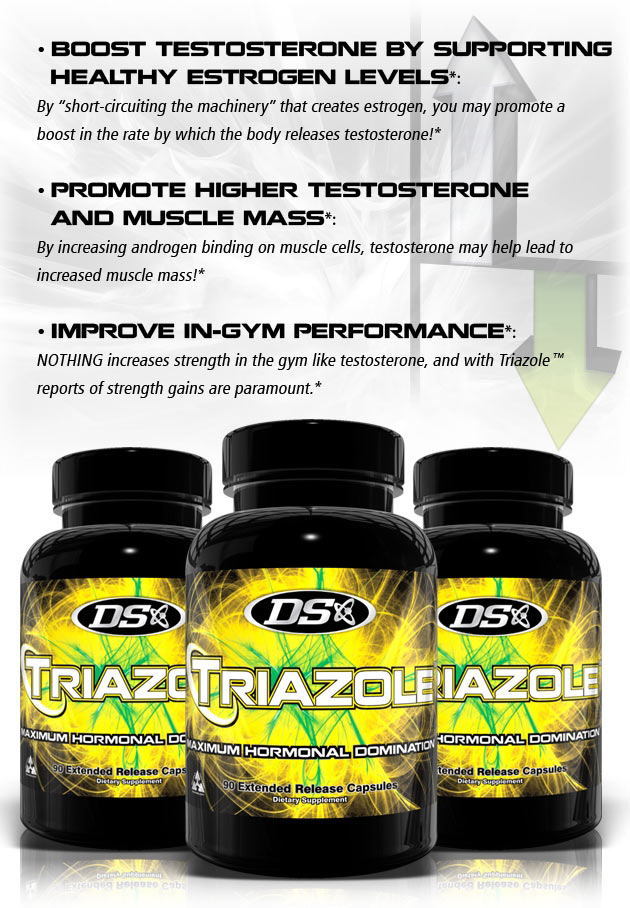 Only SERIOUSLY HARDCORE trainers need apply.
If you're still reading then let us first congratulate you because those that take their training SERIOUSLY are the kind of people we like. Let us also let you in on a little secret that will help you take your training to the NEXT LEVEL.*

Wrong. And anyone who tells you otherwise doesn't know what they are talking about. Estrogen has SEVERAL beneficial effects for bodybuilders when it comes to packing on size but a balance has to be established*. Too much estrogen and you open yourself up to estrogenic-related issues.* Too little and you can hinder gains and even reduce sex drive. This is where previous estrogen-controlling products went wrong - some completely annihilated estrogen, and others opposed the actions of testosterone in the brain leaving users with a libido so low they felt like they had been castrated.* Not good.
So we need some estrogen, but not too much.* And there's not a whole lot left unsaid about testosterone that we all don't already know! So what are we left with?

To fully understand the mechanisms at play we need to look at how hormones are managed in the body. Males make estrogen by converting it from testosterone and Triazole® works to help provide support against this conversion.* This is done by a key component of the formula that Triazole® is built around - pZole™.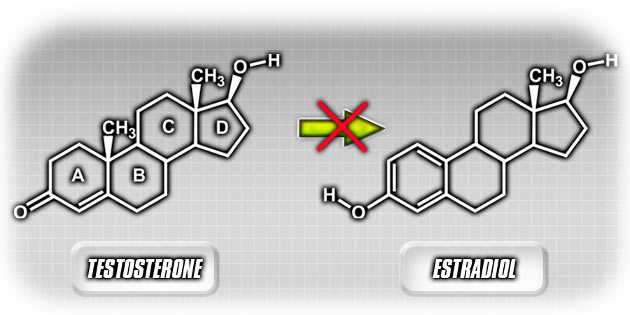 ItpZole™ is found naturally in Brassaiopsis glomerulata. This shrub is native to South Asia where it has been used to help support healthy joint function.* pZole™ is the key ingredient supporting a healthy, normal testosterone:estrogen ratio (1).* As we said earlier, estrogen is not evil and we want and need some of it, but certainly not at the expense of testosterone.*
The diagram below illustrates the feedback loop for estrogen and how it connects to testosterone creation.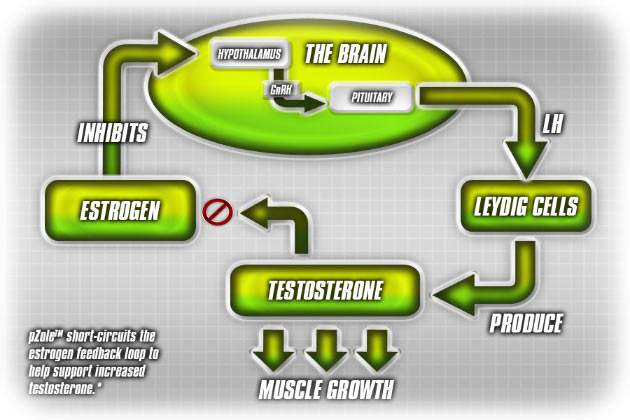 In case you didn't know, this is a GOOD THING. Actually, it's a GREAT thing as one of the functions of testosterone is to help support increased protein synthesis in cells, which over time can help lead to BIGGER and STRONGER muscles.*

Triazole® also introduces CAPE which is a natural extract of bee propolis - a resin that bees use for structural support of their hive. Recent research involving propolis has pointed to possible health promoting effects, particularly supporting healthy immune system function and heart health.* While propolis contains many constituents, only CAPE has been suggested to displace estrogen from its receptor (2).* If CAPE is occupying this receptor, then the estrogen hormone has no way to bind to it itself.* The same research has suggested that CAPE may help downregulate estrogen receptor expression, or in other words, reduce the amount of estrogen receptors!*
Prunella Vulgaris, a highly esteemed traditional herb, has been suggested to have anti-estrogenic properties through its effect in activating the Aryl hydrocarbon receptor (AHR) (3) which can interfere with estrogen (4, 5).* Furthermore, it may have an effect on inhibiting the estrogen-induced enzyme, CYR61.*
pZole™, CAPE and prunella vulgaris when combined show how Triazole® exemplifies what we call Multiple Pathway Technology™. Even if we left it there, Triazole® would still be one of the first of its kind to approach estrogen optimization from three angles. But with Triazole® Driven Sports wanted something truly revolutionary.*

Curcumin is the main compound found in the Curcuma longa plant. It is no secret in traditional Indian Ayurvedic medicine where it has been a staple for over three thousand years. Thankfully clinical research has finally caught up to it and studies suggesting the benefits of curcumin have been released at an alarming rate in the past decade. The benefits may include anti-oxidant capacity (6, 7). Other studies have suggested a positive support for mood (8).*
Curcumin also works SYNERGISTICALLY with CAPE (9) to help provide support against oxidative stress - something that may negatively impact your ability to recover.* Together, they may work to induce a protein called Heme Oxygenase-1 (HO-1) (10). Prunella Vulgaris also induces this protein (11), giving you another TRIFECTA for anti-oxidant effects!*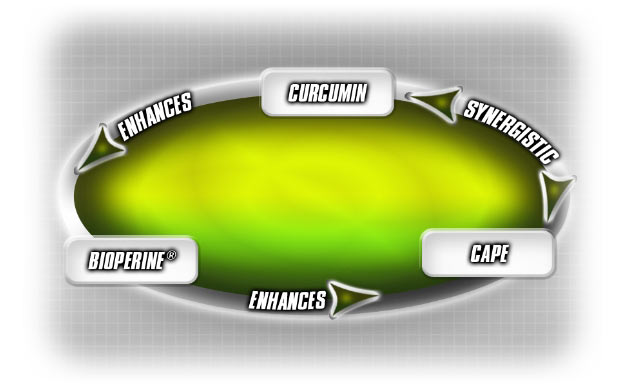 Lepidium meyenii, or maca as it is more commonly known, is a plant typically found in South America. Considered an adaptogen, maca is believed to help support healthy immune system function.* Clinical research into the compound has suggested it as an ergogenic aid for exercise, improving markers of endurance (12).*
Even the most experienced users of maca will be impressed that Triazole® uses a 20:1 extract, which we're confident almost no one will have used before. The 20:1 extract is the highest quality material available.
Triazole® also comes with added Bioperine®, a standardized extract from the fruit of Piper nigrum L (black pepper). Bioperine® is clinically suggested to enhance the oral bioavailability of other co-ingested compounds.* This may help increase the effectiveness of the Triazole® formula.* In fact, Bioperine® has been suggested in one study to increase the effectiveness of curcumin alone by 2000%! (13)*
When we say Maximum Hormonal Domination, we really aren't kidding. You told us that you wanted SIZE, you wanted STRENGTH and that you wanted it NOW.*
Additional Information
Additional Information
| | |
| --- | --- |
| Package Quantity | 90 Capsules |
| Serving Size | No |
| Number of Servings | No |
Supplement Facts
Details
Directions
Details
As a dietary supplement, take 3-4 capsules per day divided into 2 separate doses. Do not exceed 6 capsules per day. For best results, use 4 to 8 weeks. Do not exceed 8 weeks of continuous use.
Warnings
Details
For use as a dietary supplement only by healthy adults the age of 18 and over. Do not use this product if you are nursing, pregnant or attempting to become pregnant. Consult a physician before using this or any other dietary supplement. Do not take this product if you have any pre-existing medical conditions. Do not use Bioperine® without physician supervision since it may increase blood levels of prescription medications. KEEP OUT OF REACH OF CHILDREN.
Downloads
Reviews
Product Tags